…until you have to.
It's a common desire (though not mine) to limit driving to daytime hours for a number of reasons. Part of that is often aging eyes that don't see all that well, part of it is getting settled in before happy hour, and a big part of that is because seeing with most RV headlights is very difficult.  Why is that?
Most RVs make use of headlights pulled out of the giant automotive parts bin somewhere.  Usually it's a fairly high-volume part, and one that has either already been in production for several years on a car or light truck, or off of a recently discontinued body style.  More often than not, the RV maker will use generic replacement parts (TYC, Depo, Dorman, etc.) instead of the ones sourced from the original manufacturer (the Ford, GM, BMW part, made by Valeo, Hella, etc.).  In many cases, this means that the RV manufacturer spent somewhere in the neighborhood of $20-30 for your headlights, even if you spend half a million dollars on a premium RV.
That nice Prevost XL?  Late-80s Ford truck lights.  Same for that late-90s/early-2000s Foretravel.  The latter's taillights come from a 92-94 Ford Econoline van.  They're the same polycarbonate lenses as on that truck that yellow and make it look old.  Many times, for what's involved, you can dramatically change the appearance of the vehicle by spending a few bucks on new headlights.
Here's an example: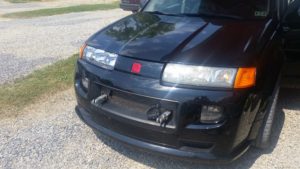 Putting new headlight housings in will get you back to a like-new appearance, and restore a lot of the lost forward lighting.  You may also experience problems with low voltage to the lights, which I'll discuss in another post.
But as much as you might want to avoid driving at night, sooner or later it's bound to happen.  It might be a traffic delay or break down that extends a travel day.  It might be an unplanned trip altogether–to take care of a family member for example–where you're combining an unplanned trip, a sense of urgency, stress/fatigue, and quite possibly a struggle to see where you're going.  You can't plan for the unexpected, but you can be prepared for it.  If maintaining headlights in good condition was an expensive proposition, it might be harder to justify, but like I've mentioned, in many cases getting back to like new compares with the cost of dinner for two.
Upgrading typically costs more, but in many cases can get you to where driving at night is preferred.  If you can see exceptionally well going down the road, you start to notice that fuel stops are less hectic, the roads are less crowded, and you don't have to think about how to time passing through the next big city.