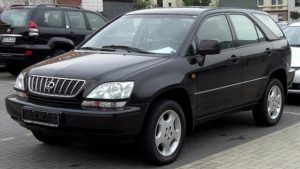 First-generation Lexus RX300 (XU10) Wiki
Note: There were two types of headlight configurations the first-generation RX300. One version used a halogen light source with reflector optics, the other used a high-intensity discharge (Xenon) low beam and halogen high beam.  The HID version is unlikely to appear on any motorhomes, and is significantly more expensive at this time–$58 for the standard light, $900-1200 for the HID version (only offered from 2001-2003).
There are also two versions of this light depending on model year.  It appears that the only difference between the two is the internal bezel–black on the 1999-2000 RX300s, chrome from 2001-2003.  This has not been directly verified however.
Original Equipment (Toyota/Lexus)
Standard Headlight, 1999-2000
Left: 8115048031
Right: 8111048031
Standard Headlight 2001-2003
Left: 8115048080
Right: 8111048080
HID Headlight 2001-2003
Left: 8115048130
Right: 8111048130
Original Equipment Style
Standard Headlight, 1999-2000
Standard Headlight 2001-2003
HID Headlight 2001-2003